One day before Ironman Florida. It's Halloween and all the triathletes are being silly, including our tour guide Ken:
I don't know where he got this mask of the grim reaper, but it's pretty darn cool. There is a clear plastic layer over the skull face which connects to a handheld squeeze bulb which allows you to squirt blood into the mask. The blood then drips down in spectacularly from the top of the skull within the clear layer! Cool! The others are part of our tour group. Good luck to them tomorrow!
I head over to T2 and drop off my bike. I cover up my gels and computer so the sun isn't bearing down on it all day today:
In T2, I saw the biggest bento box I've ever seen: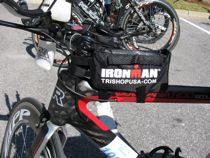 It was taller and longer than any I've seen. You can put a peanut butter sandwich in there!
Then I went to drop off the T1 and T2 bags. Looks like we'll have to run to find our own bags. Wish they would hand them off to us:
Something to avoid: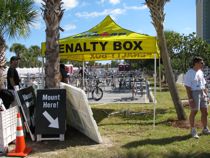 After dropping off my stuff, I went over to the Ford message tent and typed a message to myself. Hopefully it will pump me up out there. I wrote to myself, "MOVE YOUR BUTT DSHEN" heh.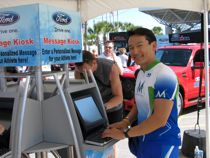 I bumped into Dan and his brother Mike and went over to their condo to eat lunch:
I ate while they surfed porn – ha joking – they were working while I was chewing! Nice view out their condo across the beach.