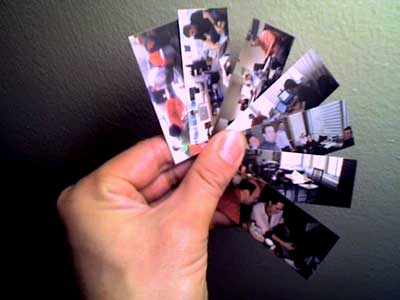 These Moo cards are really starting to take my brain and feelings for a loop.
The impulse to make more is staggering. It takes a huge force of will to not go and upload more pics and order more.
When I order them, my intent is to use them as a personal ID card or as a unique business card design. But I find that when I get them, it is super hard to part with them. I like them so much that it's hard for me to give them away! I think it's the fact that I took those pics on the backs. I have a deep attachment to them simply for that fact alone.
It's also their novelty and size. The slender aspect ratio of these cards makes them almost cute and you want to own them. I can't part with them because they are so keep-a-ble!
Then when I show them to others, they like them too. But they won't take just any card; they want to pick. They look carefully through them and only pick the one they like. Or take more than one. How strange. They want that special one that appeals to them alone, even though I took those pics and like them all.
It is even more pronounced when I show my biz cards. In case you didn't know, the backs of my business Moo cards have images of my startups that I take on occasion to document their "Making Of". So when they take my Moo cards, they don't want some strange image or dudes on the card backs; they want something that is familiar to them, like either their own company or if they know the people.
Moo cards are strangely addictive and produce such interesting reactions in myself and in others. I think I am going to need some MOOOO therapy soon to figure this all out...